the sleepers
It's a common sight on the trains of Japan. The sleeping commuter. But all may not be quite as it seems. A team of doctors in Osaka recently carried out a survey on the Osaka Loop Line and made a shocking discovery. Up to 10 per cent of the 'sleepers' are actually dead. In most cases, they have died from
karoshi
, or 'death from overwork'.
"It's a tragedy that these people are sometimes left for weeks just going round and round on the loop line, without being afforded a proper burial," said Doctor Hashimoto, leading the survey. "It's only when the smell gets really bad that people realise they're not sleeping at all, but are actually rotting," he continued.
As a result of the survey, the doctors have issued a list of tell-tale signs that will help commuters recognise the difference between a sleeper and a stiff.
1. When train pulls into station, sleeper fails to check name of station.
2. Really bad smell coming from sleeper.
3. Sleeper that you saw at 8.45am still there on your way home at 9pm.
4. Sleeper doesn't appear to be in a hurry to get to work.
5. Fungus or mould on sleeper's face and hands.
6. Sleeper fails to respond when politely shoved.
sleeping?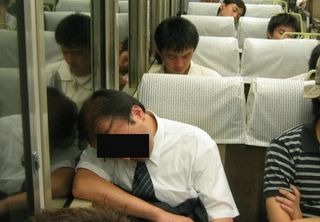 not at all well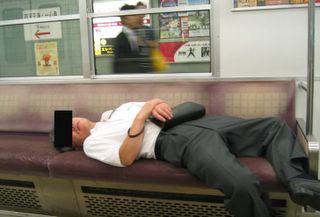 dead