bald osaka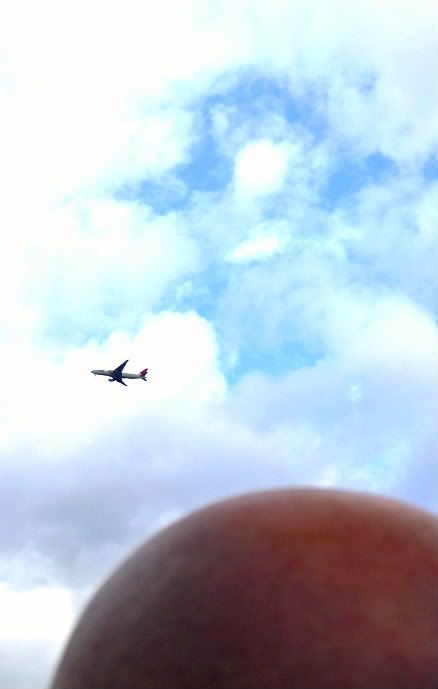 A plane coming in to land at Osaka's main airport.
Osaka is known widely as the kitchen of Japan. Not because the city's inhabitants enjoy washing dishes (though they might), but because Osaka contains more cooking utensils per square kilometre than anywhere else in the country.
Kyoto
might have its temples and shrines, but Osaka has its pots and pans. But more about that later....
When you approach Osaka from any direction, the first building most people see is the city's answer to the Arc de Triomphe - the
Umeda Sky Building
. Opened in 1993, it includes a cinema and the German consulate.
It was once said that a spitfire flew through the arch of the building in a spectacular aerobatic stunt, but it's not true. It never happened.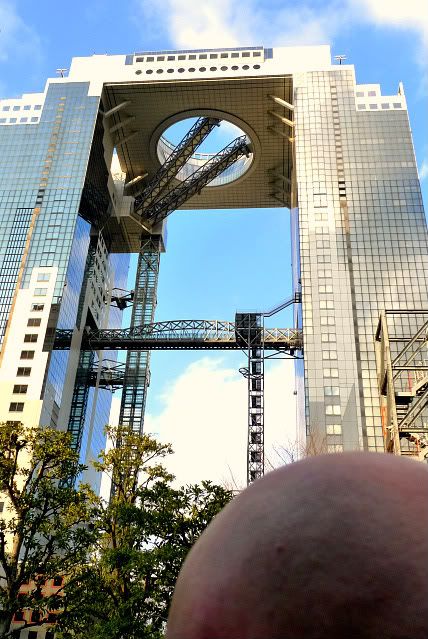 The iconic Sky Building.
The city has its fair share of pricey beauty salons for people who want to look lovely, but it also has an abundance of discount barbershops for those in dire need of a cheap haircut...
A magical haircut costs just 1,000 yen in Osaka.
No city in Japan would be complete without a castle, and Osaka is no exception. Reconstructed more times than Posh Spice's ladybumps, the castle lies in 15 acres of greenery and water, and is open to the public all through the year.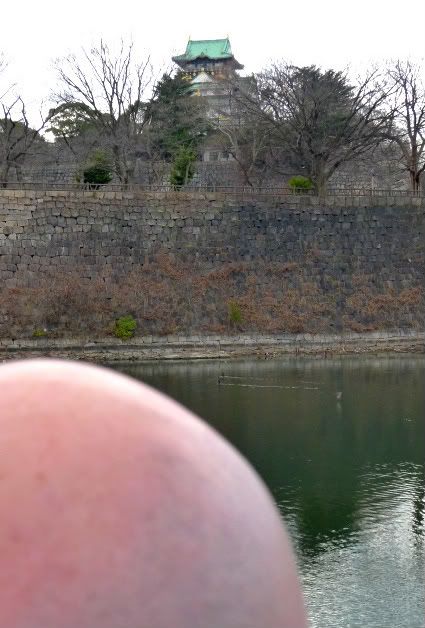 Osaka castle and its moat.
There are several entertainment areas in the city, the most popular being Namba. Here you can find the famous Glico Man, best viewed at night, but often viewed in the day....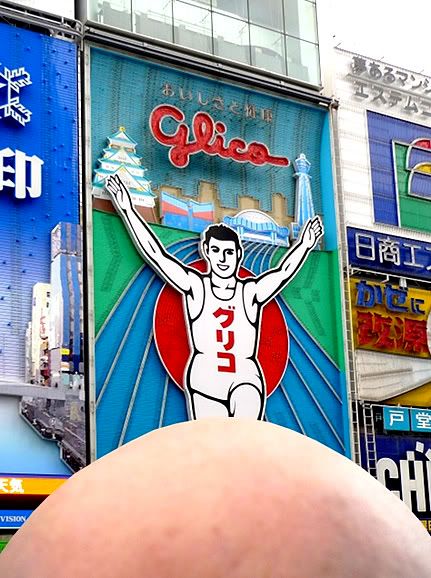 Glico Man celebrates Osaka's deeply rooted fascination with Glicos.
Close by you'll also find a Ferris wheel that buckled severely during the Hanshin earthquake....
A bent big wheel.
But as previously mentioned, Osaka is mostly about cooking. Everywhere you look, you see food - especially if you're inside a supermarket. And there are restaurants galore.
You want crabs? You got crabs....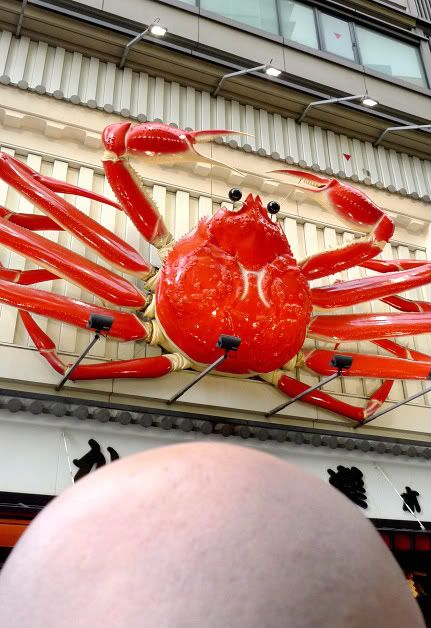 A crab on a wall.
Kuidaore Taro is a
drum-playing clown
who for more than 50 years banged his drum outside a famous Namba restaurant. Tourists came from across the country to have their photo taken beside Kuidaore Taro. Last year, however, Taro was accused of banging more than just his drum and as a consequence was hastily removed by security staff and placed in a closet.
The public missed Taro so much that they demanded his immediate return.
As a result, Taro has since come out of the closet and now stands close to where he used to be, once again banging his drum while moving his head about and grinning....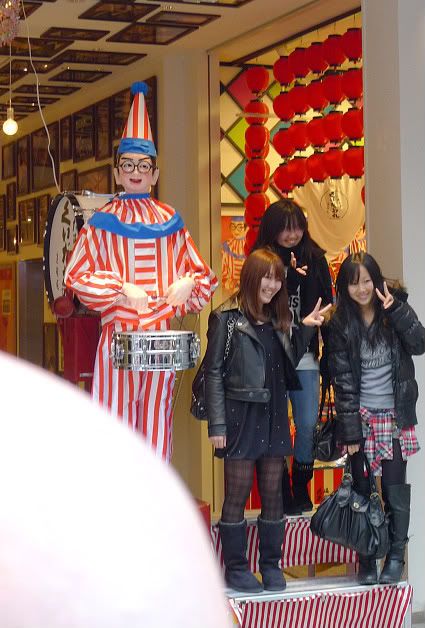 Kuidaore Taro and his drum.
Meet someone in Shibuya and Hachiko might well be the chosen spot. In Osaka, Big Man will likely be the place.
For first timers, however, this could be rather confusing as Big Man is neither Big, or a Man. A better name would be Medium-sized Video Screen. But this might also be confusing as there are many medium-sized video screens in Osaka. So Big Man it is. And this is Big Man....
Medium-sized Video Screen
The largest shop in the city is Yodobashi Camera, which incidentally sells a lot more besides cameras and yodobashis....
Yodobashi Camera - it's massive.
Where Tokyo has the manic Shibuya crossing, Osaka has the equally manic and labyrinthine Whity Underground Shopping Center. There are many people who entered Whity months ago for nothing more than "a bag of sugar", but are still yet to find their way out.
The advice is, tie one end of a piece of string around a lamp post on street level, and the other end around your wrist. That way, you should be able to escape once you have your bag of sugar....
The main intersection in Whity Underground Shopping Center where lost people approach from every possible angle.
Another prominent feature of Osaka's skyline is the large red Ferris wheel that balances precariously atop the HEP Five shopping centre.....
Finally, as touched upon at the start of this post, Osaka is really all about food. The variety and choice is astonishing and the cost of eating out needn't break the bank.
But if you only eat one thing here, make sure you try the tasty
takoyaki
(boiled octopus in batter). It's the food that Osaka is renowned for, and is as popular as it ever was....
Osaka's famous takoyaki.