quackers?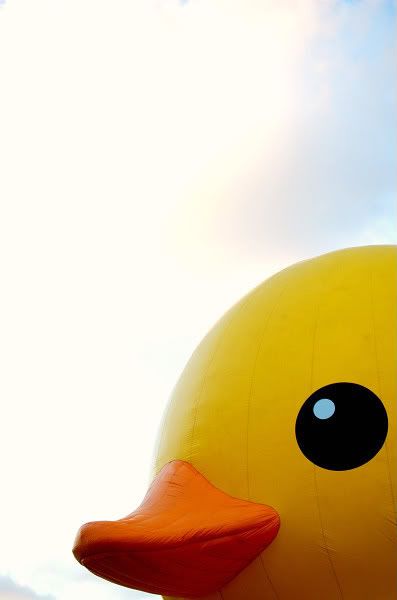 I think I've been hallucinating; maybe something got in the water supply....
So I was swanning about by the Yodogawa the other day when suddenly, across the way, I think I see a massive great rubber duck floating along by the river bank.....
I do a double take, and then a triple one. I have a flashback and recall another recent episode where I thought I saw a pig in a combat jacket.
Wait a minute, I
DID
see a pig in a combat jacket...
Remember, a pig is not

just

for Christmas.
Recipes
here
.
So back to the duck.
I do a quadruple take and, with a cricked neck, decide to take a closer look to see if the duck is real or simply some bizarre trick of the light.
So I walk towards it and it doesn't disappear, and before I know it, for the first time in my life, I'm face to face with a giant rubber duck.
It's really there. I feel relieved. For a moment I thought I was quacking up.
Then he starts talking to me. He wants something. I can't make out what he's saying at first, but then I catch a couple of words. He wants a cigarette. He says he's a 20-a-day duck and hasn't had a ciggie in ages.
But then I see the notice....
It's a no-smoking area and giant rubber ducks aren't exempt. It ruffles his feathers a bit. I sneeze. When I look up, he's gone.
I stroll home, passing a cafe where I see a giraffe enjoying a latte.