english cuisine rocks
When my time was up in Blighty, I decided to have my Last Supper before I boarded the plane. I wanted something typically English, something that is hard to come by in Japan, something to tingle my tasting buds, something that would repeat on me throughout the flight so that I could cling on to the memory for longer than necessary.
Shepherd's pie was a contender - the famous English pie containing lightly fried shepherds. Toad-in-the-Hole also hopped to mind, the popular dish containing batter and the head of a toad. Spotted dick would definitely NOT be on the menu.
I eventually decided on the food we English are known for the world over - the humble hamburger. However, it has to be said, I was rather disappointed. The burger chain (it shall remain nameless to protect the guilty - clue: their mascot is Ronald McDonald) served me up something that was a far cry from what my salivating imagination was hoping for. Oh well. Looking forward to okonomiyaki and sashimi once again.
Had been hoping for this.....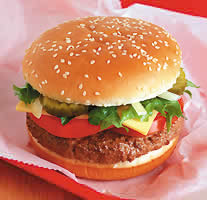 but got this......